Josef DellaGrotte, Ph.D., CFP-trainer
From the recent Introductory presentation:
Josef DellaGrotte, Ph.D., CFP-trainer
Masterful Moves Course Feb 6 to Mar 13, 2023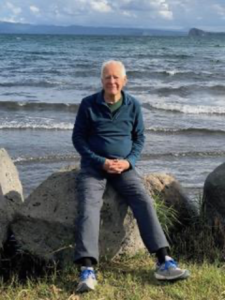 Course Title: Masterful Moves for Neurosomatic Integration
Subtitle: The Movement Improvement Multiplier Method
using the Five Rings Approach for Neuro-Somatic Reprogramming*
Insights from zebras, economics, and the present moment
Description: Five rings approach Multiplying the Benefits.
* The brain and central nervous system are now known to map and program new learning much quicker when movement awareness, hands-on sensory feedback, and feeling states are simultaneously connected.
The key is in the kind of lesson/exercises that connect directly to both the 'necessary' and 'desired' movements of one's life.
Goals: augment personal and professional practice skills and returns.
Getting more personal – and client – benefits in terms of health, wellness, and far fewer problems.
"Just as with 26 letters of the alphabet you can create a 'universe' of writing, so with six primary pathways you can quickly analyze a 'client' and see which movement pathways have been compromised and can be improved"-Paul Davidovits, paraphrased by JD
Professional option goal: be recognized and certified ( thru CMITI, LLC ) in this Competency
Tuition fee: $180 total prior to Jan 31, 2023, $210 thereafter
Six weeks Masterful Moves Course Feb 6 to Mar 13, 2023
(included in the tuition is a $30 Video and notes from Nov-Dec, 2022 basic course for prior study
ATM© and FI© expanded and viewed through neuro-based body movement pathways of:
Functional movement patterns as they relate to gravity
Myofascial movement with hands-on tissue tracking
Synchronized breathing with directional hands-on movement
Sensory-emotive feeling states as they shift from neuro-dissonance into neuro-somatic 'resonance' (the flow-zone); and
Somatic equanimity for our optimum psycho-biological state (aka polyvagal theory).
åçThe program's purpose is to retrain and improve the brain-body connection so we move efficiently, safely and confidently. Only then are we able to 'do what we want' and access 'somatic equanimity.'
The Program/Course is called 'Masterful Moves', a post training primarily for practitioners (not excluding selected qualified students & clients with personal learning and appropriate preparation), conducted by Josef and CMITI,LLC.
Contact: Josef DellaGrotte, Ph.D., CFP-trainer, founder of CoreMovement Integration
Email:  [email protected] 
Websites:  www.dellagrotte-somatic.com   www.coremovementintegration.com 
Josef DellaGrotte, PhD, CFP-physio, is one of the foremost experts on improving both functional-neuromyofascial movement and psychophysical related disorders. His training experience includes physical therapy, Rolf Structural Integration, yoga and t'ai chi- chi kung. From 1973-1981  DellaGrotte trained with scientist Dr. Moshe Feldenkrais, becoming one of the first certified Feldenkrais practitioners and trainers in the USA.
He is well known for his exceptional manual skills and ability to 'read' psychophysical patterns of behavior. Using the body's six Core Movement Pathways as a base, he has shown, guided and taught clients, students and trainees to reactivate dynamic core stability, balance and alignment; improve functional activities of life; reduce mobility limitations, restore natural movement patterns and; learn how to access 'polyvagal' equilibrium.
His published works include Instructions From Within, 2007, and Awaken Movement-The Key to Life, 2016.
The following are service marks, trademarks, collective, or certification marks of the Feldenkrais Guild® of North America in the US: Feldenkrais Guild®, Feldenkrais®, Feldenkrais Method®, Functional Integration®, FI®, Awareness Through Movement®, ATM®, Guild Certified Feldenkrais Teacher®, GCFTCM, Guild Certified Feldenkrais PractitionerCM, GCFPCM, Certified Feldenkrais Awareness Through Movement TeacherCM, CFATMTCM, Feldenkrais JournalTM, Friends of FeldenkraisSM, and FGNA Feldenkrais Method Logo. The following are service marks, trademarks, or certification marks of the Feldenkrais Guild® of North America in Canada: Feldenkrais GuildTM, Feldenkrais®, Feldenkrais® Method or Feldenkrais MethodTM, Awareness Through Movement®, ATMTM, Prise de conscience par le mouvementMD, Functional Integration®, FITM, L'intégration fonctionnelleMD, Guild Certified Feldenkrais TeacherTM , GCFTTM, Guild Certified Feldenkrais PractitionerTM, GCFPTM, Certified Feldenkrais Awareness Through Movement TeacherTM, CFATMTTM, Friends of FeldenkraisSM , Feldenkrais JournalTM, and FGNA Feldenkrais Method Logo. FGNA | 401 Edgewater Place, Suite 600, Wakefield, MA 01880
Additional resources: https://thinkinginmovement.ca/dellagrotte/
https://thinkinginmovement.ca/wp-content/uploads/2022/02/Studio-logo-1030x258.png
0
0
happybones
https://thinkinginmovement.ca/wp-content/uploads/2022/02/Studio-logo-1030x258.png
happybones
2022-12-23 21:20:33
2023-01-25 17:05:19
Josef DellaGrotte, Ph.D., CFP-trainer